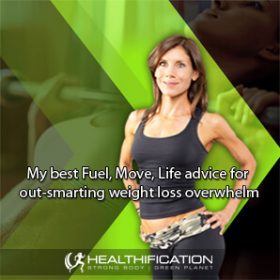 The best weight loss (body gain!) advice I can possibly share is actually potentially underwhelming.
It is so simple, it's deceptive.
You've heard it before and gone searching for an easier, flashier, quicker or more exciting solution.
And there are a lot of solutions out there to be found. Many even work. But will they work for you? Will you even give them a fair chance before you feel overwhelmed at all there is to first choose from and then do or frustrated at the time it takes to see results?
I actually believe overwhelm is an excuse. To 'do overwhelm' is to choose to focus on EVERYTHING… and often with an emphasis on everything you can not control.
It's lazy thinking.  
=> I can't do everything so I'll do nothing.
Or I'll start and not finish a lot of things rather than determine "What is the next most important step right now to bring me closer to my number one goal?"
It can be scattered thinking.
=> I'll chase this enticing-silver-bullet-shiny-object… then this one, oh and now this even more exciting looking one… rather than assess "What proven approach looks most likely to fit sustainably into my lifestyle long term?"
It is definitely ineffective thinking.
=> What if I can't do it? Why is it so much harder for me? How can I possibly manage when I'm already so busy/tired/stressed… rather than commit "I will do whatever it takes and stick with it as long as it takes to achieve the result I'm seeking."
…and it's not FUN thinking!
Back to my best underwhelming advice?
As I said, you already know it. The trick is to make it easier for you to do it.
So by order of importance:
LIFE = time and time = life.
#1. Take comfort in the fact you will never get it all done, have the clarity to decide what is most important and execute the discipline to structure your life around your priorities.
=> Accept you will never get it all done and recognize the value of a 'not to do' list. Opportunity cost means whenever you say Yes to something by default you say No to something else. Never let that which is most important to you be sacrificed to indulge in the fun, low value things that are easier to do in the short term but will lead to frustration and disappointment in the long term.
=> Know your 'big rocks'. Both those activities that you require to function efficiently and effectively AND equally those activities you crave to be happy, feel connected and also to evolve.
=> Invest time, energy and money in the systems, tactics, (mind games with yourself!) and accountability that will help you stick to doing whatever is the #1 most valuable use of your time right now – with focus – at any given time.
FUEL = food.
#1. Focus on what you are giving your body not on restriction. You and your body are a team.  If you expect it to treat you well – to look, feel and function at it's best – then it deserves quality fuel.
=> One ingredient foods. Such as: Veg. Nuts. Seeds. Beans.
=> Allow yourself a cheat day or meal (I cover how to make cheat days work here) or whatever level of sustainability is necessary for you to be able to feel happy, satisfied and non-restricted.
=> Admit that fueling your body as it deserves is going to take some planning and commit to your food shopping and preparation. Most of society is not eating this way. If you don't want the unfit, overweight, under-energized body that 'most of society' live stuck in, then out-plan the challenging situations that will pop up.
MOVE = exercise.
#1. Motion creates emotion, consistency is key and intensity counts.
=> The mind – body connection is a proven fact. Changing your physiology to change your emotions and in turn change your long-term results is partly about understanding moving more will make you want to move more (!) and also giving up the pay-off (that short-term benefit you get from choosing to indulge in sluggish physiology).
=> The average training plan you can stick to will always return better results than the ideal plan you can't stick to. The stop start approach means you get to go through the toughest part of any exercise plan, repeatedly, AND that you never get to enjoy the rewards. "If you're sick of starting over STOP GIVING UP!"
=> Our bodies were built to move not for our sedentary lifestyle and it's excessively abundant food supply. To counter a decrease in 'normal' daily activity and see results in a time frame that compels you to continue (without walking hours every day) means pushing beyond 'comfortable'.
So, we've covered my deceptively simply best advice within the 3 categories of Life, Fuel and Move. Now, it's time to make doing the do (!) easier for you.
Let's look at each category under the filter of Global Beliefs.
Global beliefs are generalised statements unique to you about the world around you.
As with any belief they are completely made up. They are also possibility filters. So what you choose as a belief will result in you 'filtering in' evidence to support this belief… for better or worse.
Ensuring your global beliefs are supportive of you achieving your health goal (building a better body and more importantly enjoying a better life as a result) is key.
Let's test it. What is your gut reaction (zero judgement + 100% honesty) when I ask you:
"Life is…?"
"Food is…?"
"Exercise is… ?"
If Life is:
A struggle. A constant battle. A race against the clock.
or perhaps,
A game. An opportunity to learn, to grow and to contribution. A gift to be grateful for.
AND if your mind will hunt for and find evidence to support whichever belief you are choosing to entertain, you can see where I'm heading with this right?
Whatever your current beliefs are there is no right or wrong, true or false.
However, there is always the option to upgrade a belief that isn't making it easy (or possible!) to get the result you are seeking for a belief that makes it as easy as possible.
Why make it tough on yourself?
If Food is:
A comfort. A reward. A constant worry and restraint. A way to show your love.
or perhaps,
The fuel that supports your best body and your best health. Nourishment. A reflection of how committed you are to being a healthy role model.
One train of thought will put you on a constant-never-winning-will-power-struggle based around using food as a crutch to avoid facing a deeper challenge, fear or lack in your life.
The other and sustainable option is to focus on the deeper benefits enjoyed when you use food as a fuel.
If Exercise is:
A punishment. A necessary evil. Boring and time consuming.
or perhaps,
Precious 'you' time. A chance to stretch your comfort zone. A privilege to appreciate. A vital component in living your most healthy, happy life that gets easier with time.
Again, you can see how one train of thought will lead you to notice:
=> How cold and dark it is in the morning and how heavy and sluggish you feel.
While the other and sustainable option will make you more likely to see:
=> You are lucky to have the time, money and mobility to indulge in an activity that primarily is geared towards improving the quality of YOUR life.
To out-smarting weight loss overwhelm!