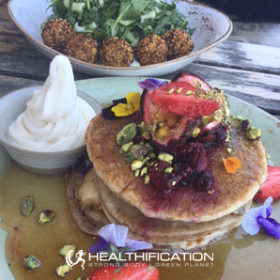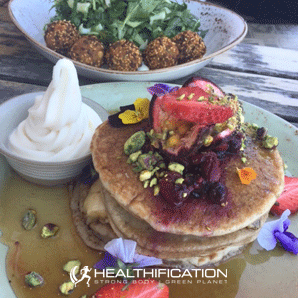 Podcast: Play in new window | Download
Subscribe: RSS
I hope you know me well enough by now to know I'm NOT a carb hater!
In fact I'm very much a carb LOVER. It's just that cutting refined carbs is the simplest way I've ever experienced to lose fat, gain energy AND still be able to enjoy lovely generous, delicious meals. Like in this FREE eBook: 3 Day Easy Vegan Plan.
It pretty much means you can do away with those pesky, restrictive measuring devices.
Talking restrictive – I don't want to! – it's not fun and as such it's not sustainable. So, here are a couple of caveats before we getting rolling with todays show on:
101 Ways To Cut Carbs When Eating Out.
One: Fibrous veg are FREE Carbs. Eat as many as them as you like. Ideally eat them in generous, colourful quantities at every meal. Experiment with different fibrous veg and creative ways to prepare and cook them. Equally, prioritise YOUR fav fibrous veg. You want to love your every meal. I do. It's totally possible. So if kale doesn't rock your boat – and you've given it a few chances – that's fine, go with spinach or rocket or whatever you do love.
Two: When you remove something it's essential to replace it with a better alternative. Otherwise that void will naturally be filled and often with something equally unhelpful so far as achieving your body gain goal. That's often where our friendly free fibrous veg come in. However it also might mean amping up the lean protein or adding some extra good fat.
Often when people cut refined carbs it's unsustainable because they either don't replace the crap-o-la carb with a better option or they choose too light-weight an option. Swapping a bowl or rice for a bowl of spinach isn't going to cut it!
Ok, I've structured the ways to cut carbs when eating out into 6 sections and because it got a little long I'll cover the first 3 in Part one today and then the next 3 in Part two which I'll be the #330 show on Friday. Generally it's short bullets however I'm also going to throw in a Personal Standard suggestion AND for fun a Bang-4-Your-Buck-Bonus-Point option in each section. You'll see what I mean as we get getting… Let's do this:
How To Cut Carbs at BREAKFAST.
Choose free range organic eggs any way you like them instead of the fruit salad and yoghurt or granola or pretty much anything else.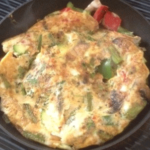 Hold the toast. Yep, even grainy, rye, sour dough or spelt AND order an extra side.
If you're an oats fan (and oats ROCK however they are not low carb. I'm going to stop saying that now – you know I'm not hating on carbs I'm just giving you some alternatives!) so back to your low carb option, hunt down the cafe that serves a Chia seed based oatmeal alternative. They exist. They are growing in number! If you can't wait I'll link to a recipe I found made of: chia seeds, golden flax meal, shredded unsweetened coconut, water, unsweetened coconut milk and natural sweetener.
If you insist on yoghurt Greek is the higher protein lower carb version. Ideally it's going to be served with nuts and seeds and not just a fruit-carb-fest. Even better a plant based coconut yoghurt.
Have a green juice instead of a fruit juice… always feel free to ask for that extra sweetener to be omitted when ordering a made to order smoothie. Most don't need honey…
Still on that green juice… Ask for extra spinach / kale / a scoop of plant based protein powder and 1/2 the banana.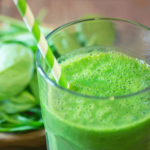 Even better have water with your meal instead of a juice.
Choose black coffee or espresso or even a macchiato.
If you're a latte, flat white or cappuccino fan perhaps start by asking for just a dash or hot milk – even better a dash of hot almond milk… and no sprinkle of chocolate!
Skip the sugar. Carry Natvia (or similar low carb natural sweetener) if you need it.
Make it a personal standard to start the day as you mean to continue. That means no dessert (like pancakes, hotcakes, muffins or pastries!) for breakfast. The alternative?
Build your breakie as you would any other meal around one ingredient fibrous veg, lean protein and good fat. Some of my favs (from my vego days) include a veggie laden omelette, a big breakfast of eggs and your fav sides or perhaps the Middle Eastern anytime meal Shakshuka: eggs poached or baked in a spicy tomato sauce.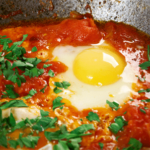 Bang-4-Your-Buck-Bonus-Point! Stop lying to yourself. Sweet Potato is just as carbie as regular old spud or for that matter rice or pasta or bread. Sure it's low GI and high value and Yes I'd certainly call it healthy however if you're looking to cut carbs then it's not your solution. While you're ditching the sweet potato rosti in favour of a higher protein or higher fat side here are 3 more rapid fire high carb breakfast sides to DITCH:
Gluten free bread.
Homemade baked beans.
Corn fritters. And, of course 9 lower carb sides to CHOOSE instead: 
Poached egg.
Spinach.
Grilled tomato.
Mushrooms.
Avocado.
Kale or Anything Green!
Plant based feta.
Plant based ricotta.
And, NO I didn't forget… Tofu scramble. (tofu isn't a regular in my eating plan however on occasion I'll have it).
For my 100% Plant Based friends or for when you're eating IN check out these: Lean, Clean Vegan Breakfasts:
How To Cut Carbs at LUNCH.
Ask if the breakfast menu is still available – there are often a lot more low carb options.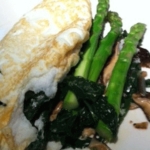 When it comes to fries and wedges it's 100 times easier to ask for the meal without them rather than attempt to leave them on your plate.
If a sandwich/roll is the only option eat it as an open sandwich and skip the top layer of bread.
Even better, order that sandwich without the bread. Many cafes will do this and you'll generally get a lot more of the fillings they can skimp on when they're padded by bread.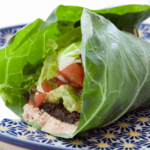 If pasta is the only option order an entree size and an extra side of the yummiest looking green veg.
If burgers are the only option ask for your burger naked or leave the bun… it's just a zero value filler.
When ordering sushi – don't! – choose sashimi and miso instead. Unless of course it's a low carb cauli-rice sushi like this one: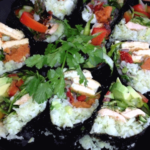 Make it a personal standard to not scavenge from your dining companions plate. I used to demolish my pizza plus the leftovers my parents couldn't eat.
Leaving food isn't wasteful. Spending hours of your life trying to exercise off fat you accumulated through scavenging is wasteful! (I use that word with volition so that next time you're tempted you'll think twice!)
Bang-4-Your-Buck-Bonus-Point! I wouldn't do this at a restaurant however I absolutely do if I'm eating at a food court or take away. Order your meal minus the unnecessary carbs… so that may be the omelette without toast or the veggie burger without fries or the salad combo that isn't all cost-effective-carbie-filler. For example I love broccoli or kale or cauli based salads however they're never substantial enough. This is the time to PIMP YOUR SERVE with a side of nuts. I love cashews and Yes, I have been known to buy 50 grams separately to add to a bought salad. Here are 3 more ways to pimp your serve, so these are 3 to INCLUDE not 3 to avoid:
Add Seeds to a light weight salad, like Hemp or Pumpkin which are super easy to carry with you.
Follow that salad with vegan Protein Powder mixed with water.
Or even grab a jar of tahini / nut butter from that nearby supermarket (or carry a portion with you) when you're faced with a light weight salad option. And to recap, the toast and fries we've covered already however here are a few carbie salad fillers to AVOID:
Croutons.
Vermicelli noodles.
Felafel.
Chick peas.
Black or Kidney beans.
Potato.
For my 100% Plant Based friends or for when you're eating IN check out these: Lean, Clean Vegan Lunches Part 1 and Part 2:
How To Cut Carbs at DINNER.
Make a booking whenever possible… to avoid time waiting at the bar drinking excess beverages and possibly nibbling mindlessly at whatever they have on offer.
Choose wine or a side of bread or dessert – never all 3. 
Even without the bread they come with dips are sneaky little pots of high carb deliciousness… olives or nuts are a better choice to nibble on.
So far as entrees, stick to the simple plant based option, this might come from the sides menu rather than the entrees. Even a shared vego antipasto plate can be a good call (if you can resist those dips and that bread) and stick to the variety of veg.
Order an extra side of fibrous veg rather than fries, wedges or bread.
Still tempted? Order an EXTRA side of salad rather than fries, wedges or bread!
Ask for your main with no chips (or potato however it's served) and any extra green veg instead of salad. I'm down with salad however the restaurant on the side of your lean protein variety is generally super light weight and is going to have you eyeing off your companions chips!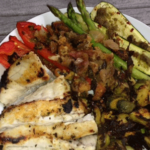 If you're a tofu eater it's going to be the lower carb option. This lil past vego now vegan can assure you the vegetarian pizza or pasta or risotto is NEVER the low carb or the light option.
If you're a vego and it looks like you're stuck with that pizza or pasta or risotto it's ALWAYS worth politely asking it there's any lower carb option. It's all in the asking. Perhaps start with a component of one of the meat/fish meals that looks nice and ask if it's available somehow as a vegetarian / vegan meal.
Ask for your meal with no sauce/dressing or at least order it on the side. Then (if you must!) you can dip the tip of your fork in the likely high carb-fat-salt dressing instead of drowning your food in it. The key to this working is to order quality food that does not need to be disguised in copious amounts of sauce. I promise you when you give it a chance your taste buds will learn to love the fresh, clean taste of simple quality food.
If your meal is trying to sell itself as healthy think 'Taco SALAD' feel free, like very super free to ask for your salad minus those tacos. Unless of course it's a low-carb-kale-crisps-cashew-cheese-Nacho's like this one from my Free 3 Day Easy Vegan Plan: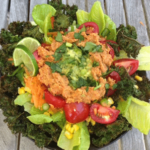 Be weary of sharing main meals. Dependant on how well you know your sharing buddy you may get the short and stodgy-carbie end of the deal as they pick out all the best bits of protein. Equally, you want to choose the best option for YOU rather than share the meal that someone else with a different (or zero!) body gain goal fancies.
If dessert is your thing – if you LOVE it – then this is the place to share the love rather than keeping it all to yourself.
Decline the complimentary chocolate or mint or mini biscuit at the end of a beautiful meal. You don't need it.
Make it a personal standard to never order according to cheapest. I get that at stages in your life that's tough. From time to time I even resent my undersized serve of salad (minus the animal products!) that costs almost twice as much as someone else's hearty pizza or burger.
And then, I remind myself how important my goal is. That it's important enough to eat out a little less often if I need to… or to have a good snack before and after the meal so that I can manage with entree size.
Bang-4-Your-Buck-Bonus-Point! In a take-out Thai situation ask for that noodle dish: without noodles… even hold the carrots and extra broccoli please. Plus a side of cashews. I used to do this and it's fine. As long as you're polite. Especially if you're a regular it's really no problem. That was a more extreme version of me though, I'm now fine with carrots! Here are 3 more take-out carb CUTTING options:
When ordering Indian take-out, lentil and starchy vegetable based curries typically contain more carbs than fibrous vegetable or animal product based curries so it's a good plan to focus on fibrous veg OR get entree size. Appetisers and sides such as samosas and pakoras are higher in carbs, so choose a salad, kebab or tandoori dish instead.
If the place you're grabbing your meal from only offers chips or other fried and carbie sides then it's absolutely 100% worth finding the nearby spot that does serve a salad. I'll often do this with a mate and we'll split the salad.
When eating Middle Eastern cuisine order the bowl or plate rather than a pita meal and hold the pita that's offered with your bowl or plate. And, because we can't just cut here are some lower carb ADDITIONS to your plate or bowl:
Olives and eggplant.
Red cabbage or cauliflower salad.
Extra tabouli and tahini.
For my 100% Plant Based friends or for when you're eating IN check out these: Lean, Clean Vegan Dinners Part 1 and Part 2:
How To Cut Carbs at SNACK TIME.
Choose a piece of fresh fruit over juice.
Even better, choose veg. I'm serious. I'll often snack on 1/2 a red capsicum or roasted brussels however since today is about eating out how about a veg juice?
Choose nuts or seeds over nut or seed bars.
Choose vegan protein powder and water over a protein bar.
Don't be fooled by Organic or Natural or Fresh or Sugar-free… they can all still be very high carb.
Make it a personal standard to ask yourself: "Do I really need this and how am I going to feel after I eat/drink this?" BEFORE demolishing an unplanned meal/snack.
How often do you turn to food to fix something other than hunger? Me too. Often just becoming aware of how ineffective this approach is, is enough to stop me in my potential mindless-carb-guzzling tracks.
Bang-4-Your-Buck-Bonus-Point! Know your carbie tempting-trigger-foods AND never buy that trigger food that might be fine if you stuck to just ONE minuscule serving size… because you know you won't! Here are 3 carbie tempting-trigger-foods to AVOID:
Dried fruit.
Pretzels.
And here are 3 more hopefully-NON-tempting-trigger-foods to SNACK ON instead:
Lightly roasted chickpeas or green peas (only if you can get them in a small pack!).
A glass of almond milk or almond flat white.
Kale crisps (they are more and more readily available now and the cost of a tiny bag will prevent outta-control-demolishing!).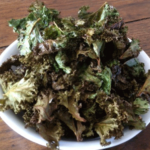 Also check out these: Low, Carb Safe Snacks:
Lower Carb ALCOHOL.
Swap to a low carb beer.
Alternate wine and sparkling mineral water. (it helps to drink your sparkling mineral water out of a wine glass!)
Ditch a soft drink / juice mixer for soda / mineral water and a wedge or many of fresh lime.
If you're not drinking – great – but please don't order the lemonade or even the soda with that sickly sweet lime cordial. Mineral water is your best option or even…
A Virgin Mary.
If you don't want to drink – great – no one needs to know how many of your vodka soda fresh limes are actually just soda fresh limes. It's your choice. Even better…
Make it a personal standard to never be swayed by peer pressure or the ease of slotting into a round of whatever everyone else is having.
It's a sad fact that more often than not, everyone else is unfit, unhealthy and UN-happy with their body. The people nearest and dearest to you will get used to you being the one that has red wine not white. Or that you prefer vodka soda and don't drink beer. If I feel guilty that my drink costs more in a round I'll always pass on some extra cash.
Bang-4-Your-Buck-Bonus-Point! Now at home you could turn any classic cocktail low carb… I honestly believe that, however unless you want to ask a bartender to "hold the sugar/syrup" or pass over a sachet or 3 of Natvia to shake in… and even I wouldn't do that (!) then choose the serious no carbie-fluff-cocktails and drink less of them! Here are 3 GOOD options:
A Gin or Vodka Martini.
A Moscow Mule made with vodka, fresh lime juice and diet ginger beer.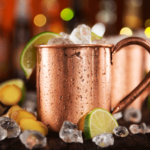 Low Carb Green Tea Mojito.
Because I couldn't resist here's a recipe (!) it makes one drink and is adapted from Organic, Shaken and Stirred by Paul Abercrombie.
1 tablespoon fresh lime juice
4 large mint leaves
1-2 sticks of Natvia natural sweetner
1/2 cup brewed green tea, chilled
1 ounce white rum
Muddle the lime juice, mint and Natvia together in a Collins glass until the leaves bruise lightly releasing the flavours. Add ice till glass is 3/4 full and pour in rum and green tea. Stir well.
How To Cut Carbs IN ADVANCE TO EATING OUT.
When travelling do a quick google search of restaurant options in the area you're visiting so you're not caught short and susceptible to a lazy decision.
Drink adequate water to ensure you're never eating (or drinking non-water) due to dehydration.
If you know it's going to be a super tempting meal or your food has been a little light on consider having a high protein snack prior to heading out: like a protein shake.
Or maybe, my previous personal fav pre-emptive-tempting-meal snack, Protein pancakes. I used to make them with egg whites however there are absolutely egg free pancake options. I now have a quicker chia seed / almond milk / protein powder mix. It's simply 1 tablespoon of chia seeds + 100 ml almond milk (let that sit for at least 10 minutes) + a scoop of vegan protein powder and 3 cubes of ice. Blitz that in your nutribullet (or equivalent) and you're golden!

Even better…
Make it a personal standard to prioritise eating regular planned, nutritious, delicious meals. Each meal decision you make builds on itself. Teach your body it can rely on you for great, REGULAR meals.
The refined carbie meal you make at home OR the lunch you skip at work makes it that much more HUGELY likely that you'll succumb to the high carb meal on offer when eating out.
Bang-4-Your-Buck-Bonus-Point! Know the better eating options in your area. Near home, near work, near the movies or theatre or footy… wherever you've happened to end up in the past with a group eating decision to make! That way you can be the one with the great suggestion when next indecision hits. That time when previously you have resorted to the tried and tested – reliable pizza joint – this is the time to throw your suggestion into the ring. Here are some of the things I've ordered straight off the menu – no adjustments – it's just a matter of knowing-Finding-HUNTING-DOWN (!) your better options:
Zucchini crisps. 
Zucchini pasta.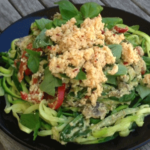 Portobello Mushroom caps instead of burger buns.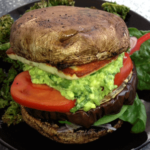 Cauliflower mash. (sadly I'm yet to find cauli-pizza to buy – it'll happen though!)
Kelp noodles. In addition also know…
The better snacking options in your area. I'm serious – I know where I can buy 50 grams of roasted cashews near work, home and the pub!
FINALLY, #101.
Don't arrive outta-control-starving and just eat a smaller serve.
To get actionable today, How about we go we ONE carb cutting upgrade each from Breakfast, Lunch and Dinner?
That'd rock. In deciding remember those 2 caveats we started with:
One: Fibrous veg are FREE Carbs.
Two: When you remove something it's essential to replace it with a better alternative.
Talking of delicious FREE carbs I'm off to prepare some Kale crisps to enjoy with my dinner. Thanks so much for hanging with me today. I hope you can join me for the Friday show.
If you liked this you'll also like: How To Cut Carbs To Lose Weight
And: What To Eat When Out And About
Also: Can Cutting Carbs to Lose Weight Kill You?
If you're yet to share the Healthification love – just click here to zip over to iTunes and leave an honest rating and review. It'd help me out big time. With gratitude, Kate.